Pineapple aioli. Yet another wonderful taste of Queensland summer.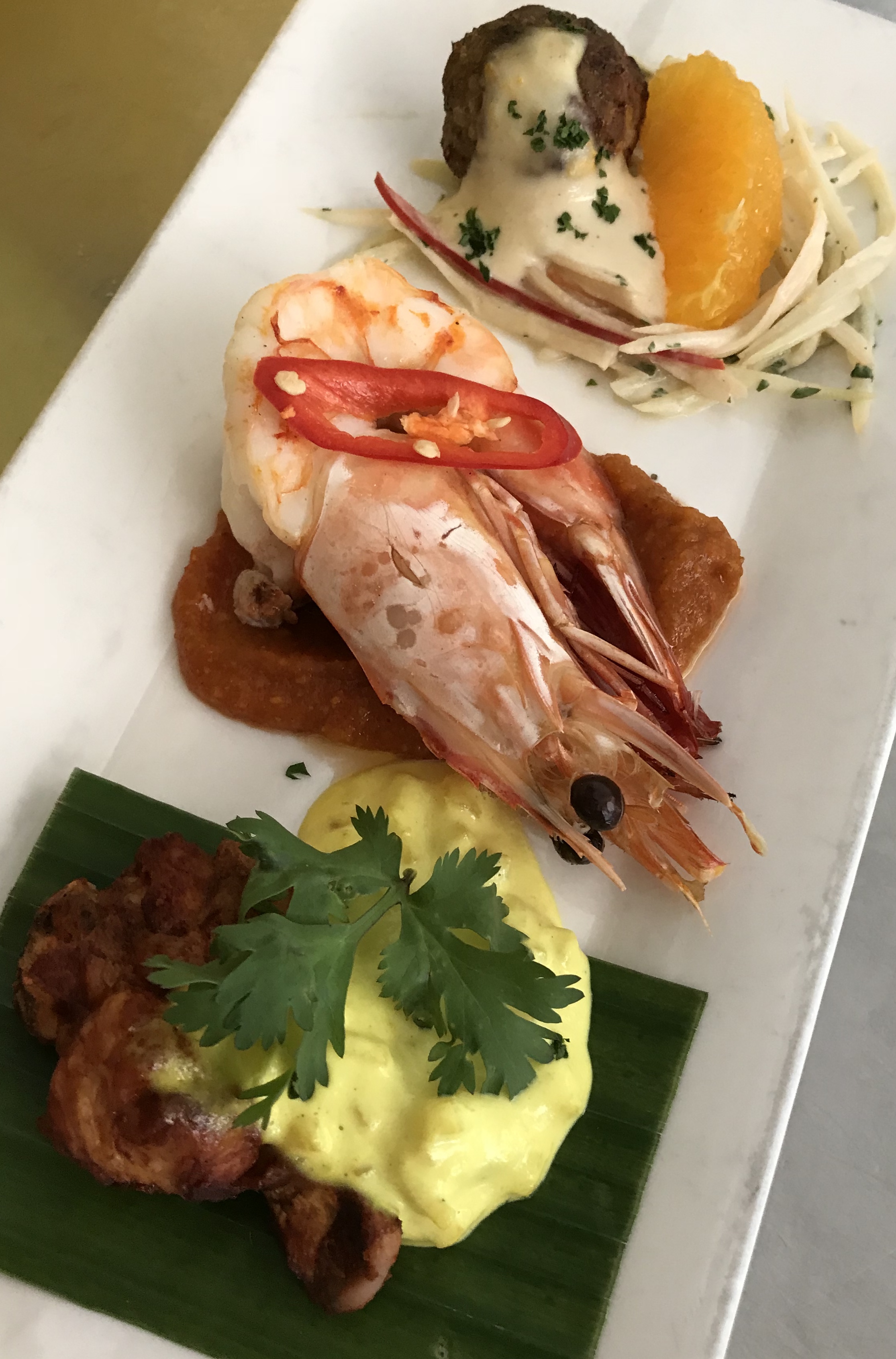 Yes, I have admitted that spelling and grammar is not my strong point, I did think though, writing recipes was. Well my excuse is we all make mistakes and in my market to table cooking class my recipe and fact sheets certainly proved this. So I would like to apologise for the big boo boo in the pineapple aioli recipe. Please discard and here is the correct recipe. Enjoy.
The tropical fruits of Queensland just have so much to over. Covering an array of sweet and savory dishes, even a meal in themselves. So many ideas to explore. Here is my take on a tropical aioli, so vibrant and packed with flavour, its uses are absolutely endless. Have a play whilst they are so ripe and in season.
Pineapple aioli
This is fantastic as a potato, or coleslaw salad dressing as it's a bit runnier than your average aioli. One of my favourite is to generously coat roasted potatoes or chips in a blend of smoked paprika and smoked Cyprus salt, then have this aioli as a dipping sauce on the side, heaven. Smokey potato pineapple goodness. Today we apply the same seasoning to chicken. Also works on pork, prawns and fish. You can change pineapple to mango, not one too ripe. Add some curry powder or some fresh mint or chives. So many ways to play with a base mayonnaise. Explore!
Best to read the whole recipe before you start so the order makes sense.
Ingredients
1 medium size onion (1 cup roughly chopped)
1 teaspoon oil
1 tbsp. fresh turmeric
½ tsp chopped garlic
1 cup finely diced fresh pineapple
Mayonnaise
2 egg yolks
1 tsp sea salt
1/2 teaspoon pepper
1 teaspoon spoon rice wine vinegar
1 teaspoon mirin
1 teaspoon Dijon mustard
1 cup sunflower oil
Method
Place fresh finely diced pineapple in a sieve to drain or place on kitchen towel. Remove as much juice as possible. draining in the fridge, covered, overnight works a treat. Set aside.
Roughly chop onion and slice garlic. Sautee in olive oil till transparent. Add turmeric, stir and allow to cool.
Now to make the mayonnaise. Place the egg yolks, mirin, rice wine vinegar, Dijon mustard and salt and pepper in deep jug or deep bowl. Using a stick blender or beater or hand whisk slowly add the sunflower oil. A food processor works really well too. Continue to mix and add the oil till all combined.
Place the cooked and cooled onion and turmeric mix and mayonnaise in a food processor or blender and blend till paste like. If mayonnaise has been made in a food processor just add the cooled onion and turmeric mix.
Place mayonnaise in a bowl. Stir the well-drained pineapple in to the mayonnaise and ready to go. The turmeric colour with intensify as time goes on. Gloves when handling turmeric is a good idea.
It's also really delicious without the pineapple.
Check seasoning.
Makes approx. 2 cups
Note
If the emulsion of the oil with the other ingredient's splits, stop straight away. In a separate bowl place another egg yolk, ½ tsp mustard, ½ mirin and ½ teaspoon of rice wine vinegar. Slowly and whisking very well add the split mix slowly to recombine. If the end flavor is really intense add a bit more oil, very, very slowly and continue to whisk at all times. Any other problems, ask me.