The Mighty Blue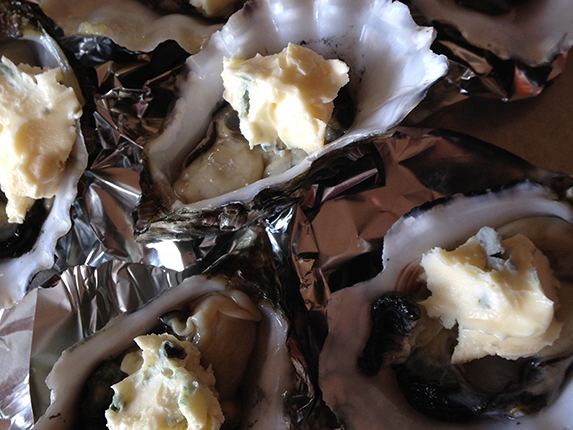 I don't generally associate cheese with seafood. Maybe a parmesan sprinkle on a marinara or risotto. So when I came across blue cheese mussels in La Rochelle, France, how could I resist. So curious as I tried the first one and it was bloody delicious. The blue cheese mussels were a must have for every lunch and dinner we had over the next four days.
A while ago now on a mini mid-week break I had taken some Coffin Bay oysters with us. Day one was natural. A mouthful of one of the jewels of the sea. One of my many weakness, fresh oysters. I don't think my business partner, Kev and myself making any money on the oysters we sell, as they are at easy reach in our seafood display cabinet. They sit the on a bed of crushed ice, and say "eat me I'm absolutely delish". Just too tempting to not indulge!
Anyways back to the mini break. So the next day as the BBQ was getting ready to sear the steaks, I saw the remaining oysters in the fridge sitting next to Blue Costello and thought what the hell. Give it a go. I topped each oyster with 1 teaspoon of the blue and sat them on the BBQ. The heat from below and the sun kissing the top the cheese melted. Glass of Riesling poured and we tasted. Oh my, just amazing.
They now feature on the specials menu regularly and always stock blue for the regular customer like myself who have fallen for these culinary delights. It is dead easy, so give it a try. Change the blue depending on your taste. I love the creamy texture of the Blue Costello, wins in my books hands down.
One more tip, buy at least a dozen as a couple will just not be enough.
Recipe
Ingredients
Blue Costello
Fresh oysters
Method
Top each oyster with 1 teaspoon of blue cheese and place on some crushed foil on a tray. This prevents them from falling over and the cheese escaping. Place under a grill or on a BBQ, as mentioned above and grill until the cheese has melted. They don't take long, don't overcook. Plump, warm and juicy…OH YEAH
Said it was easy