Mag Time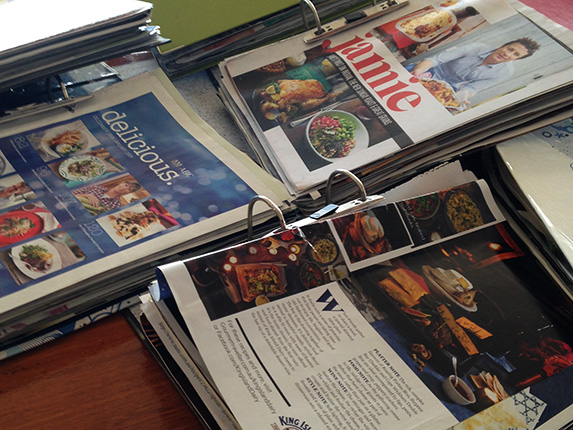 One of my most inspiring past times is to "sort the mags" As a food junkie, I buy, subscribe and obtain any cooking mag I can. Not all the dishes, at times are rocking the boat but they take me on an adventure. Like old classics turn into new adventures.
About 3 years ago the piles and piles of magazines were taking over the house. And just starting to piss my partner off. As I am already in trouble with the book collection, something had to be done. Well I couldn't part with them, have a lot of trouble parting with anything food orientated.
My "sort the Mag" ritual is flicking through each page and pulling the recipes out that I have to keep. Then punch holed and put into folders. My personal re-cycle style cookbooks.
What this creates is a collections of recipes from countries afar, entrees, mains, bakes, BBQ's. From truffle risotto to croquembouche, chilled gazpacho to macaroons. It's a natural high as I rip, punch and file. Recipe after recipe flashing before my eyes. Removing the ads and no longer required articles give me a bang bang book. Just love it.
I must one day make my paste and scrapbook collections. Days never long enough. As I mentioned before I can't bring myself to throw these recipes away. Shit just had to rewind the TV, yes there is a cooking show on in the back ground. Homemade chiko rolls. I have a seafood restaurant and a 70's Heston style (not quite so out there though) hot box special has been on my mind. I'm feeling the chiko roll being, leek, scallop and prawn with sautéed savoy cabbage encased in homemade pastry with side of lemon myrtle remoulade.
So back to the paste books. My Mum and Brother send the Epicurean to me and as I travel I collect cuttings of recipes, need to keep them, they have to stay with me. One day I will get around to the paste books, but for now I can only just keep up with the mags. So much knowledge so little time.
Must get to the keepsake articles I have collected one day too. One day, one day, one day. Now what's for lunch?
Tip. Cheap way to make one yourself is check out the charity shops
Create your own amazing, inspirational, totally mouth-watering bang bang get cooking book